Journeys, solo art exhibition at the Brookside Museum, Saratoga County Historical Society's Long Room Gallery opened September 9th and will run until November 5th, with an artist reception on Friday, October 7th, from 6:00-8:00 PM. This exhibit will featuring 37 works and is my largest show to date. I am very pleased for this opportunity to share my work at Brookside Museum. It is a beautiful space and I love their commitment to the local community. A percentage of any sold pieces during the exhibit will benefit the museum and their programs.
Artist/author lives and works in her Ballston Spa residence. Loucks has been an artist for 28 years. The Saratoga area and traveling are a big part of Eva's life. She has the ability to put images on paper creating a lasting impression of special moments, events, places or objects. I have been creating art for a long time, and have put together my love of art with my love of traveling. Vivid scenery and images come to life in vibrant color. Many of her inspirations come from her travels to Australia, England, France, and Italy. Her most recent works have been inspired by her pilgrimages to Medjugorje, a small town in Bosnia-Herzegovina, these pieces which are featured in her print-on-demand book, Medjuorje, A Personal Journey in Photography and Illustration.
I will have my book for sale and signing at the artist reception on Friday, October 7th, from 6:00-8:00 PM. The art exhibit at Brookside will run from September 9th – November 5th. Visit the exhibit Tuesday- Friday 10AM – 4PM, and Saturdays 12-4PM. Admission is free.
Visit the Brookside Museum Website at  http://www.brooksidemuseum.org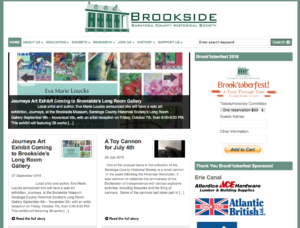 Long Room Gallery